Together with my wife I and our buddy R, I play the hell out of
Eldritch Horror
. This summer we started a campaign mode where you try to beat six baddies in a row. Rules found in the new Masks of Nyarlathotep expansion, but really you think this up yourself. This campaign is turning out to be a nightmare of endless casualties and vile magic - for our cultist enemies that is. These are our stories so far.
Instant update:
Want to see Eldritch Horror in action? R sent me this
playthrough by Wil Wheaton and friends
.
ABOUT ELDRITCH HORROR
If you don't know Eldritch Horror, it's a cooperative board game with just enough flavor to the encounters and characters that you can squint and pretend the game is a
Lovecraft-
crazy DM and you're trying to survive their killer game. Your hapless characters travel across the world map to fight cultists and monsters, close the gates to other dimensions, gather clues and foil the awakening of a Great Old One god-like monster such as
Cthulhu
. As is just and right for Lovecraftian games, your characters will find gruesome artifacts and spells to turn against their opponents, and will see their
sanity go down the drain
with every encounter.
Eldritch Horror lets you live out the Lovecraftian dream by giving you ample opportunity to make Dark Pacts and go insane.
Usually we play stand-alone games; this summer we started off a campaign with the rules in the new
Masks of Nyarlathotep
expansion. You set out to fight not one Great Old One, but six in a row from all the expansion sets that there are. In each of the sessions, you play against one Old One, and add a thematic background to the game basec on the next one in the row. With a regular game of Eldritch Horror lasting anywhere from 3- 5 hours, this is obviously a summer long enterprise.
GAMEPLAY
Eldritch Horror turns go from agency to victimhood. First, all players take a round of actions as they wish in the
Action phase
.
Actions include taking the train or boat to another location, resting to recover damaged health or sanity, studying a tome to learn spells, shopping for gear and services, or special actions for their individual character (from gaining a Clue token if they have none, to moving a free space or rearranging attributes).
After preparing themselves, players each tackle a mandatory
encounter
in the space they're in. They can choose which type of encounter if there are multiple options, but they have to have one.
Encounters are little side adventures that offer risk and reward like fighting monsters, closing extradimensional gates, currying favor with the Vatican, enlisting Yakuza or Japanese navy to fight monsters, gathering clues to fight the Old One, or hunting for artifacts in an archeaological dig.You can sort of try to play to your strengths, but encounters will generally test all your character's abilities equally.
At the end of each turn, when everyone has taken actions and encounters, the board itself takes a turn when a dreaded
Mythos
card is flipped.
Mythos cards represent the malign influence of the Old One waking up, like forcing you to discard items, spend sanity, get cursed or losing helpful NPCs. They open gates, spawn clues and monsters, count down the game's Doom mechanic (if you reach 0, the cult manages to raise their Old One and you have a huge fight on your hands), and hands out various impairments. Mythos cards are generally bad news and often target the first player to take their turn this round; a good reason to pass on that First Player token like it's a stick of fizzing dynamite.
OUR HOUSE RULES
There is truly no 'easy mode' in Eldritch Horror. Our success rate in beating Old Ones is generally so low that we adopted some house rules to speed up play and give ourselves a bit more of a chance.
Rather than spend a precious action to buy train or ship tickets, we award one free ticket during a vity shopping action. Makes for easier travel.
If two characters are in the same location, they can freely trade posessions without having to spend an action.
We allow characters to hang on to "use immediately" cards like Wireless Report or the "sign a Dark Pact to immediately kill off a monster anywhere" option of the Goat Spawn monster. Makes sense to us that Lovecraftian investigators keep a goat's head on ice so they can perform a dark rite when they really need to.
Finally, the campaign rules have you lose all the posessions you earned in between games. We decided to hang onto ability changes, spells, items, allies and artifacts; clues are linked to specific Old Ones, so those lose their value and are lost every session.
SESSION ONE - THE SIGN OF AZATHOTH
We start with a warm-up villain: Azathoth, from the base game, isn't too hard to beat, although if you allow the game's Doom counter to tick down to 0 it's an immediate game-over instead of an extra hard last-ditch effort. In campaign mode, we also have to already pick the next Old One to beat. In a nice bit of foreshadowing, you have to deal with minor signs of this next Old One's emergence during the current game. We decide to tackle Egyptian doom mummy Nepren Ka next, so we set up the Egypt side board for little trips to the pyramids, Alexandria and so on. In the end we don't go there too often, as there's enough to do on the main board.
Our intrepid investigators:
Father Matteo, a priest who gets the super-awesome Blessed condition every time he closes a gate;
Daniela Reyes, a mechanic who gets better and better at scrounging up resources during the game;

Agatha Crane

†, a magic specialist who soon kicks the bucket;
Norman Withers, an astronomer who can pick clues out of the ether at the cost of his own sanity.
As usual, we spend the first couple of rounds tooling up. That explains the four Debts we take out at the start of the game; they give you extra cash to buy things and you'll pay for that later, but the price generally isn't too high. Getting roughed up by the mob or having to sign a deal with the devil, that kind of thing.
Agatha boosts herself even further by willingly taking on a Corruption condition, and then another one. This is a new mechanic from the Masks expansion and we don't yet know what it actually does, bit it looks cool. It turns out that Corruption cards will just keep adding counters that impair the character, unless they take a deal-with-the-devil Dark Pact condition. Even that just resets the counters rather than removing Corruption entirely. Dark Pacts can kill you off, or force you to kill another player, so yikes!
Luckily, when her Dark Pact comes due, Agatha is devoured outright and her player R can start with a new character. Astronomer Norman Withers isn't one of our favorite investigators, but R will turn the guy into an absolute powerhouse over the next sessions. His ability to spend Clues and Sanity and make monsters disappear through open gates is a life-saver, especially when Norman's personal quest resolves and he can take even less penalties for spending Clues this way. (Having situations become even slightly less horrible is what we consider a big victory in Eldritch.)
Sidebar - character development
Let's talk about those personal quests a bit. A cool new mechanic introduced in Masks of Nyarlathotep is that of Personal Stories.
For every character ever printed in an Eldritch expansion, there are now two new cards; one with a mission to pursue during the game, and one with a powerful benefit for succes and a strong setback for mission failure.
Like Norman, Daniela just manages to complete her quest before a lose condition triggers (allowing X monsters or Clues to accumulate), and she is now swimming in Resources. This new mechanic can be traded in for shop credit, faster healing and even Old One-defeating clues.
Personal Stories flesh out the characters. Although the rules are necessarily sparse - they have to fit on 1/4 size standard playing cards - they manage hint at what the character is about, like astronomer Norman Withers' quest to solve a big Mystery before the Stars Align on the game board.
How about the Old One?
Our overall baddie Azathoth, meanwhile, gets mopped up with little real setbacks. We've amassed some useful magic artifacts, weapons and spells; nothing game-breaking, but these will give us a nice boost in the next session.
Debts: 4
Blessed: 2
Cursed: 1
Gates closed: 2
Monsters defeated: 7
Characters killed: 0
Characters devoured: 1
Dark Pacts taken: 1
My character Daniela Reyes after session 1. A nice haul: three points of ability gained, two artifacts won, a Personal Story completed and a whole lot of gear.
SESSION TWO - NEPHREN-KA
Nephren-Ka is an ancient worshiper of the god Nyarlathotep and it appears he's rising from the dead - can we put him back to sleep? Nephren-Ka is from the Under the Pyramids expansion, which gives you more locations in Egypt and a host of ancient Egypt-themed spells and monsters.
We also draw a new Old One to fight - Yig the serpent lord from the Forsaken Lore expansion. He's got a nice set-up mechanic where either one or more characters allow themselves to be poisoned, OR the first player gets cursed (see below, sucks) and every player gets a stat rise. We opt for the latter - R and I just completed a game between the two of us with me constantly getting poisoned and injured conditions, and they suck like a gaping chest wound.
My wife I and I have been trounced by Nephren-Ka once already and we're apprehensive. This guy has a Mythos phase mechanic where you have to move one space towards his lair unless you pay 1 Sanity - hard to justify when the trouble on the main board will just pile up. This time though, we have one more player to help out and we've already armed for bear with gear and spells. That mummy doesn't stand a chance.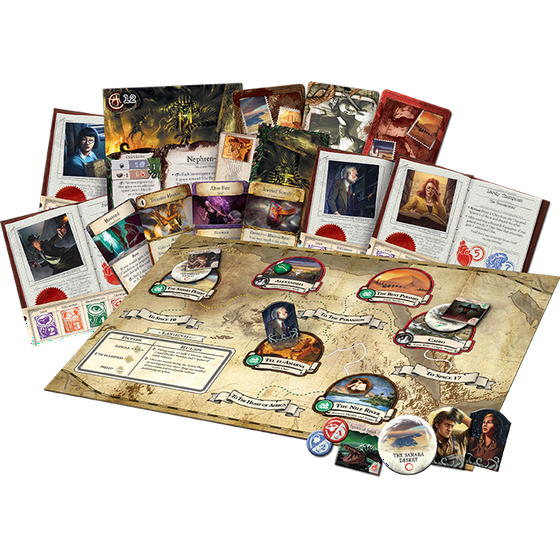 Egypt side board (promotional image from Walmart)
Highlights:
Great teamwork in round one. Father Matteo gets cursed right off the bat (only a roll of 6 on d6 is now a success), but we also get handed a countdown-to-doom minor quest that involves chucking a bunch of Clues at the problem. Daniela can generate Clues for Resources (she gets one back per round, and earns one after resting or shopping), and we decide to meet in Arkham with Norman Withers, swap gear while we're there, hand her all the Clues we have, and solve the countdown quest the next turn.
Having to fight an epic monster (the Tick-Toc Men) in the Australian Outback and just nuking them from afar with spells and favors because we can't be arsed to make the trip.
Norman Withers banishing all kinds of monsters, like Clue-eating Shan Insects, and amassing a dread library of about 10 spells. He can hurt, heal, protect, teleport, summon, banish - and every time he rests, a Tome he got via Daniela's frequent shopping trips gives him an extra spell. All the booster artifacts he's received during the game add up to ~18 dice to roll.
Father Matteo handing out Blessings left and right (they make every dice roll easier; normally you have to roll 5-6 on d6 for a success, Blessing makes this 4-6). Daniela Reyes discovering that with her two free Resources per turn, she can effectively buy out the store without taking Debts. Her landing a Mi-Go Brain Cannister artifact, which lets the owner trade gear with someone else wherever they are. This frees up the other two players to solve problems and kick mummy ass. Very effective.
Debts: 2
Blessed: 4
Cursed: 1
Gates closed: 2
Monsters defeated: 3
Characters killed: 0
Characters devoured: 0
Dark Pacts taken: 0
Encore plus le Swag. Note that Daniela bought even more items than this, but shipped them to the other characters through the Mi-Go Brain Case. Handy little gizmo. We worry that we're becoming the cultists everybody is so afraid of.
SESSION THREE - YIG THE SERPENT
My wife and I have a running gag about the Serpent Folk monster: when you draw it, it automatically moves to the Amazon location and has a chance of luring you 1 movement closer to it in the Mythos phase - except in our years of playing, it always fails to, or only succeeds when we actually need that one extra movement. His master Yig from the Forsaken Lore expansion is different business entirely though, handing out the horrible Poisoned condition which prevents you from recovering health/sanity during rest actions and can damage you during the Mythos phase. For our next Old One in line, we pick Hastur from the Signs of Carcosa expansion. He'll try and drive us mad while we hunt for snakes.
Really, this is a cakewalk. Not because we're that good, or because Yig is a pushover, but because we have two games worth of gear and spells right from the get-go and can unload hellish damage on even the slightest sign of trouble.
Afraid we're getting cocky, we warn each other that there's lots of Mythos cards that punish you for having too much gear or spells. We could look at 1 damage for each item or spell you have, for instance, with us lugging around ~10 of those each and even the strongest character only having 7-8 hit points. You get to discard cards to prevent this damage of course, but who wants to be forced between keeping Excalibur or the Necronomicon?
In the end, the Mythos is kind to us and we mop up Yig in no time. So fast, even, that we discuss prepping for the next game by doing some shopping while we keep Yig on life support. Funnily enough, the game isn't having any of that and a rare positive Mythos card ends up solving Yig's resurrection before we can amass even more ridiculous wealth.
Norman Withers has changed disciplines from astronomy to applied necromancy. Lab equipment to boost casting of his scary collection of spells partially funded by the ridiculously handy Resource mechanic.
Debts: 0
Blessed: 3
Cursed: 1
Gates closed: 4
Monsters defeated: 11
Characters killed: 0
Characters devoured: 0
Dark Pacts taken: 0
LESSON LEARNED
Eldritch Horror isn't designed to handle you keeping gear between sessions. It's great fun wiping the floor with our opponents for once though! I'm sure that our hubris will get rewarded during the next three sessions.